HOME ->ABOUT PARASITES ->FLEAS ->DOG FLEA COLLARS MAKE YOUR LIFE THAT MUCH EASIER
Dog flea collars make your life that much easier
Share On
Facebook Twitter GooglePlus Email
With so many different flea treatments for dogs available, why are collars so popular?
If you've got a dog, fleas are probably a constant worry. You regularly pick through his coat, you check your comb under a magnifying glass and you sometimes start to imagine every bit of stray black fluff is suddenly going to start jumping…
The fact is if you do find a flea, you know you've got a problem. Not only will it mean that you've got to spend the next few weeks constantly vacuuming, and washing everything in the house, but there's also a risk that your dog will get worms, flea allergy dermatitis or one of other more serious diseases.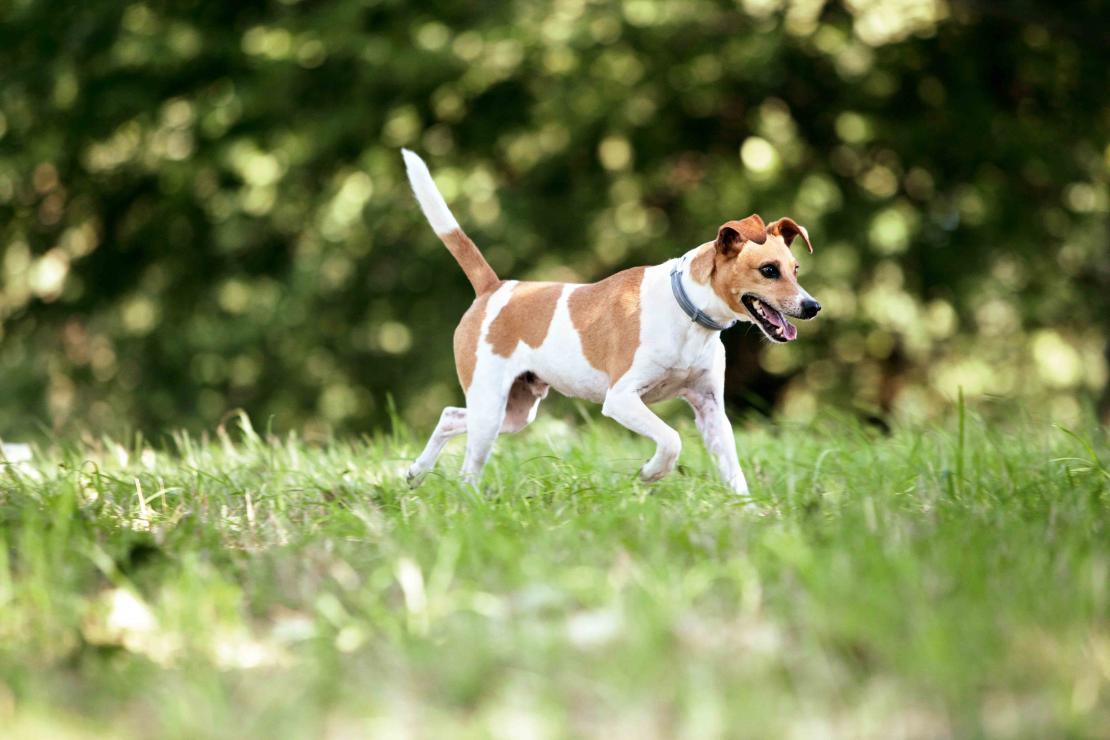 If you're a new dog owner, you'll probably go to the pet shop and come away armed with every spray, tablet and dropper you can find. There are plenty of options around if you're after flea treatments for dogs.
Types of flea treatments for your dog
Spot-on drops are a great way of keeping your dog protected against parasites – especially if you choose a brand like Advantix (link) that kills fleas through contact. But much like tablets and sprays, they're only effective if you remember to top them up regularly - usually every four weeks.
Modern flea collars, on the other hand, offer the advantages of a spot-on without the need for top-up treatment – often remaining effective for several months at a time.
The Seresto® flea collar for dogs kills fleas and ticks through simple contact for up to eight months. It's water-resistant, odourless and looks just like a normal collar. Built using an innovative technology that slowly releases controlled doses of two different active ingredients, Seresto® makes sure your dog stays protected, even if you've forgotten why he's wearing it in the first place!
How does the Seresto® flea collar work?
Seresto® flea and tick collars work by gradually releasing a low dose of its active ingredients (imidacloprid and flumethrin), keeping your dog protected at all times. This release starts once the collar comes into contact with your dog's skin or coat and as the active ingredients diffuse into the skin's natural lipid layer, killing fleas on dogs within 24 hours and preventing further infestation for up to 8 month.
Why Seresto®?
There are plenty of other flea collars around, but none work quite like Seresto®. Unlike other collars, Seresto® kills fleas and repells and kills ticks through simple contact, which means the parasites don't have to bite your pet before they're affected. Seresto® is an easy to put on and fuss-free treatment that offers protection that lasts for up to eight months, meaning there's no need to remember any regular top-ups. The collar doesn't smell and is water-resistant, offering protection against not only fleas, but also ticks for your pet, and peace of mind for you.
Find out more about how to use the Seresto® flea collar for your dog on the Seresto® page. Cat owners can also benefit from the Seresto flea collar for cats, by providing any indoor or outdoor cats protection from fleas they may pick up from the outdoors or even from their fellow furry housemates.
Tags
Share On
Facebook Twitter GooglePlus Email
MORE OF THE GOOD STUFF