7th CVBD Symposium
"BIODIVERSITY IS CHALLENGING ONE HEALTH"
March 26-28, 2012, Berlin, Germany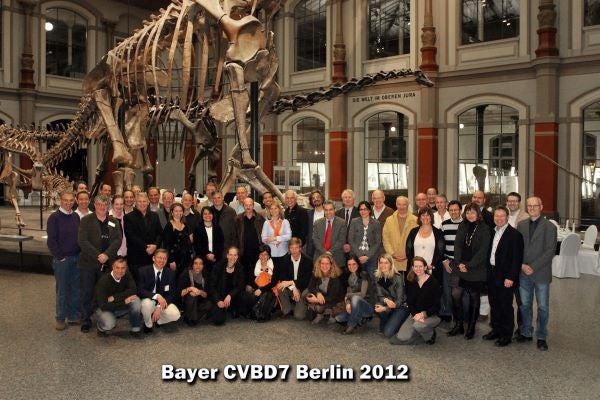 Participants of the 7th CVBD World Forum Symposium
As part of its ongoing commitment to the scientific community, Bayer Animal Health* today marked their 7th year of support for the CVBD World Forum (CVBD7) in Berlin, Germany; and this year's meeting has again proven to be a landmark in the understanding of CVBDs.
CVBDs present a real threat to the health of both pets and humans, with an untold toll of suffering and death worldwide. The data shared at this meeting highlighted the continuing need for awareness-raising, particularly of the risk posed by vectors and of the importance of surveillance and prevention in protecting pets and owners from the impact of these potentially serious diseases.
The importance of surveillance was emphasised by the findings of an Australian study from the group of Dr. Rebecca Traub from the University of Queensland, Australia. Their study found that in dogs not receiving ectoparasite prevention treatment, one in three dogs were infected with at least one CVBD, while one in ten were infected with more than one CVBD. Dr. Traub stressed that "The findings of this study show that not only are CVBDs present much more frequently in Australia than is often thought, they also reveal the importance of dogs as potential reservoir for Rickettsia felis (the cause of Flea-Borne Spotted Fever) and as a potential source of human rickettsial infection. As a result, I would recommend that all veterinarians and pet owners in Australia should consider broad-ranging CVBD prevention as a key element of their animal's health planning."
Away from the Australian experience, there were also a number of noteworthy studies reporting data from across Europe. A study presented by Prof. Luís Cardoso, University of Trás-os-Montes e Alto Douro, Portugal demonstrated the presence of at least one CVBD in 14% of apparently healthy dogs in Portugal and more than 45% of CVBD-suspected dogs. Along with highlighting a remarkably high rate of CVBD in superficially healthy dogs, this study also showed that non-use of ectoparasiticides doubled their risk of CVBD infection. Prof. Cardoso was clear on the implications of this research, "Our study shows the very real risk posed by CVBDs, even in animals that do not appear to be affected. The discovery that non-use of ectoparasiticides doubled the risk of infection makes a very strong case for all dogs to be routinely treated with ectoparasiticides in order to minimise risks to the individual dog and the community as a whole."
Understanding the prevalence of CVBDs is only part of the answer; knowing the distribution of the arthropod vectors themselves is also critical. Dr. Gioia Capelli from the Istituto Zooprofilattico Sperimentale delle Venezie, Legnaro, Italy, shared data from Italy that emphasised the range of risks that can be posed by a vector. The study looked at the pathogens carried by the tick species Ixodes ricinus in 14 sites in north-eastern Italy. Eleven different pathogens were found in the ticks investigated, including 4 genotypes of Borrelia burgdorferi (17.6% of samples), Rickettsia helvetica (13.1%) and R. monacensis (3.7%), Candidatus Neoehrlichia mikurensis (10.5%), Tick-borne encephalitis flavivirus (2.1%), Anaplasma phagocytophilum (1.5%) and Bartonella spp. (1%). Furthermore, 22% of ticks were co-infected by more than one pathogen.
Data presented by Prof. Guadalupe Miró , Universidad Complutense de Madrid, Spain, drew attention to the continuing geographical spread of CVBDs and their vectors, reporting signs of canine leishmaniosis spreading to new, previously unaffected areas in the North of Spain, accompanied with reports of the spread of sand-fly populations to new areas.
The meeting also produced invaluable findings on the year-round risk posed by ectoparasite vectors of CVBDs. Dr. Filipe Dantas-Torres from the University of Bari, Italy, presented study findings showing unexpectedly high survival rates of brown dog tick in Italy of up to 385 days between feeds, including exposure to winter conditions. It may be necessary to reconsider the potential scale of impact of climatic warming on tick population size and spread.
Prof. Edward Breitschwerdt from North Carolina State University, USA, discussed the implications of data presented at the meeting, "Every year we see more and more data on the emerging importance and spread of these serious diseases, which clearly supports the need for year-round protection from all CVBDs. The data presented at CVBD7 further reinforces the message for veterinarians and for pet owners that it is no longer appropriate to think of CVBDs as being a predictable, seasonal threat regardless of where the pet and family might live. Due to the chronicity of these infections, CVBDs can be present anywhere, at any time, throughout the world. Most CVBDs are very difficult to diagnose and difficult to cure with currently available treatments. The best way to prevent vector borne diseases in pets is to ensure they have year-round protection from all ectoparasites. We know protecting pets isn't happening as widely and as fully as it should. Therefore, I would like to take this opportunity to ask all veterinarians to take this threat, and its prevention, seriously, and take all appropriate actions to educate their clients as to how to best protect the animals in their care."
Speaking at the closing of the meeting, Prof. Norbert Mencke from Bayer Animal Health spoke of the future of the CVBD initiative, "Bayer Animal Health remains committed to studying and promoting the prevention of CVBDs and will continue to support the invaluable work done by the scientific community. We firmly believe that the CVBD World Forum offers an unparalleled opportunity for the scientific community to come together and share the latest research findings, helping to advance the fields of parasitology and veterinary medicine. Indeed, last year's meeting saw the development of a call to action from the members of the World Forum and I'm happy to report that this comprehensive advice to veterinarians around the world is now being published in the journal Parasites & Vectors (Parasites & Vectors 2012, 5:55)."
"Bayer Animal Health also strives to meet the practical needs of our customers in their efforts to protect animals from CVBDs. As a result of these efforts, we recently developed Seresto, a new product from Bayer Animal Health that offers a significant new step in the long-term management of ectoparasite threat in both dogs and cats and that we think gives the promise of a paradigm shift in the management of CVBDs."
A collection of scientific manuscripts that have been published open access in the course of the 7th International CVBD Symposium can be found here.
*now Elanco Animal Health