2nd CVBD Symposium
"WORLD OF KNOWLEDGE. WORLD OF INFORMATION."
April 25-28, 2007, Mazaro del Vallo, Sicily, Italy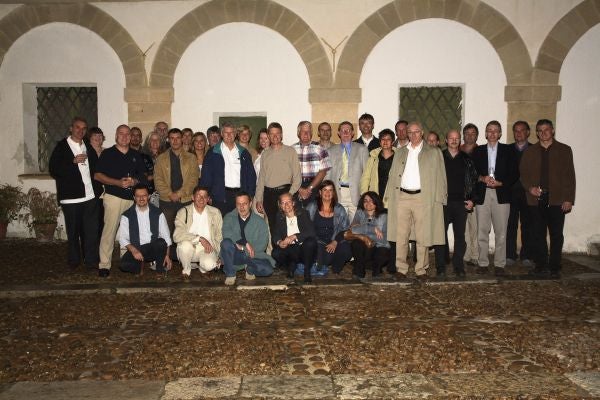 Participants of the 2nd CVBD World Forum Symposium
Sicily is a hot spot not only for numerous tourists, but also for several parasites and severe parasite-transmitted diseases. This made the island the perfect venue for the 2nd International CVBD Symposium. 33 leading experts in natural sciences, veterinary and human medicine from Europe, the USA, Australia and Asia spent two days on discussing the current situation and future developments in the field of companion vector-borne diseases (CVBD).
Canine leishmaniosis (CanL) was one major topic of the symposium, as it is endemic in the Mediterranean region and in many parts of Asia and Latin America. Prof. Dr. Michael Day from the University of Bristol, UK, explained that the course of Leishmania infantum infection is mainly determined by the nature of the host's immune response. Both symptomatic and asymptomatic dogs are able to infect sand flies, the natural vectors of canL. "Since asymptomatic dogs do only have a random chance to be diagnosed, they are the most important reservoir for canL from an epidemiological point of view," explained Dr. Gioia Capelli from the University of Padova, Italy. Depending on the areas and the diagnostic methods used, the prevalence can vary in an endemic area from 25.6% up to 80%. Dr. Capelli's recommendation: "Protection of dogs with repellents during the vector season may positively contribute to reduction of the proportion of asymptomatic dogs, resulting in the control of canL and human visceral leishmaniosis."
Prof. Dr. Gad Beneth from the Hebrew University Rehovot, Israel, studied the relation between canine and human leishmaniosis in Israel and the Palestinian Authority and found a clear overlap between regions in which canine and human diseases were reported. His aim was to identify environmental factors characteristic for leishmaniosis-endemic regions in order to develop models that can be used to predict the risk of diseases over broad areas, where data may not be available. In humans, L. infantum infection causing visceral leishmaniosis is mainly detected in children, immunosuppressed adults (e.g., HIV infection, organ transplantation) and, by sharing syringes, in frequent drug users. Prof. Jean-Pierre Dedet, CNRS University of Montpellier, France, referred to the surprisingly high number of asymptomatic patients in his country: "In the canL-endemic Alpes-Maritime region, 30% of the human population showed immunreactivity to the leishmanial antigen."
What makes diagnostics and treatment of CVBD even more difficult is the high degree of co-infection. Dr. Xavier Roura, University of Barcelona, Spain, concluded that one or more vector-borne organisms might suppress the host's immune response to other organisms that would typically be eliminated immunologically. In Italy, Dr. Gaetano Oliva from the University of Naples, Italy, found in a two-year study: "53% of dogs had been co-infected with Ehrlichia canis and L. infantum. The most frequent associated infections in dogs are canL, ehrlichiosis and babesiosis." Dr. Angel Sainz from the University of Madrid, Spain, reported that concurrences of ehrlichiosis with infectious and parasitic diseases – especially leishmaniosis – were relatively common in dogs in Spain (around 30% of cases). According to Prof. Dr. Edward B. Breitschwerdt, North Carolina State University, USA, many different mammalian species can even be infected simultaneously or sequentially by several Ehrlichia species. His current focus is to provide comparative medical information about anaplasmosis and ehrlichiosis in animals to discuss the zoonotic risks that are attributable to members of the Anaplasma and Ehrlichia genera.
Factors and dynamics of the parasites' spreading were intensively debated. Prof. Dr. Dwight D. Bowman from the Cornell University, USA, reported on the spread of heartworm infection during the last 50 years in North America. Meanwhile, it is believed that autochthonous transmission may have occurred in all 49 states of the USA and most of the Canadian provinces. "This process has been facilitated by thousands of dogs that move every year with families, military personnel, visiting students and tourists", he said. His recommendation for Europe: "Take a more pro-active approach and make it mandatory to take preventative measures."
Dr. Torsten Naucke, University of Bonn, Germany, investigated the settling of canine babesiosis in Germany, where it has been usually regarded as a "travel-related disease". With the help of the public, he collected 2,322 Ornate Cow ticks (Dermacentor reticulatus), the vectors of Babesia canis causing canine babesiosis in Germany, between 2004 and 2006. Ticks containing Babesia canis and B. vogeli were found up to the latitude of Berlin. In a similar approach, Canadian veterinarians, public health institutions and pet owners send removed ticks to the National Microbiology Laboratory. Dr. Robbin L. Lindsay from the Public Health Agency of Canada is convinced that "passive surveillance data could be a central component of regional public education, physician and veterinarian awareness campaigns or, if possible, vaccination strategies."
Prof. Dr. Susan E. Little from the Oklahoma State University, USA, addressed the open question of pathogen transmission times during tick feeding. Prof. Dr. Little found that the well-known latency period of several hours to days is not valid for the subsequent feeding, when activation has already started at the first host: "If an infected tick begins transmitting to one host and then rapidly moves to a second host, faster or even immediate transmission is likely to occur on the latter mammal."
Discussions and lectures during the 2nd International CVBD Symposium confirmed the importance of taking appropriate measures against parasite-transmitted diseases to reduce the risk of infection for dogs. Severity of diseases, zoonotic risks and the dynamics of parasites' spreading are common threats in many if not most parts of the world. The absence of effective preventative strategies against most of the vector-borne pathogens challenges scientific experts and veterinarians to implement efficient ectoparasite control strategies.