1st CVBD Symposium
"FIRST EDITION. FIRST CHANCE"
April 18-20, 2006, Billesley, UK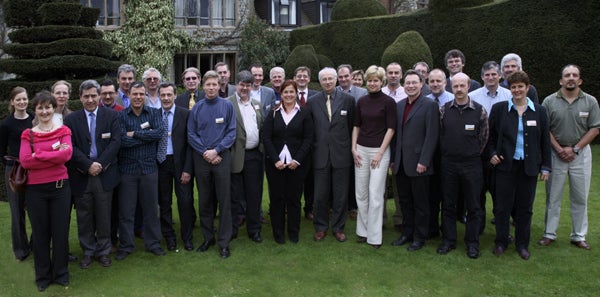 Participants of the 1st CVBD World Forum Symposium
Leading experts in natural sciences, veterinary and human medicine from Europe, Israel, the USA and Australia met for the First International Companion Vector-Borne Disease (CVBD) Symposium in Billesley, UK, to discuss current scientific knowledge as well as future trends and needs concerning the clinical presentation, diagnosis, pathogenesis and prevention of pathogens transmitted by blood-feeding arthropods. As a logical outcome of this scientific meeting, the "CVBD World Forum" was founded.
The 1st International CVBD Symposium was a mirror of the diversity of pathogens and disease-transmitting arthropods. Especially with the development of molecular-based diagnostic methods, the world of pathogens and vectors is becoming more and more complex. Dr. Ricardo G. Maggi, North Carolina State University, USA, presented new DNA-based approaches as rapid, sensitive and specific tools for differentiating pathogens. These diagnostic tools can provide useful information to the clinician.
The clinical aspects of feline as well as canine infection with Bartonella and Haemobartonella through bites of fleas were addressed by Dr. Michael R. Lappin from Colorado State University, USA. Bartonella infection of cats has been associated with a variety of clinical manifestations like fever, lethargy, lymphadenopathy, uveitis, gingivitis, and neurological signs. "It is still unclear as to why some cats develop Bartonella associated illness, while others do not", admitted Dr. Lappin. A unique feature of these pathogens, while infecting humans, is their ability to cause vasculoproliferative disorders. Dr. Volkhard A. J. Kempf, University of Tübingen, Germany, presented his favourite concept to explain tumourous proliferation of endothelial cells induced by Bartonella henselae. Although only partially understood, the mechanism seems to involve the induced expression of vascular endothelial growth factor (VEGF) by activation of HIF-1, the transcription factor of VEGF.
Dr. Reinhard K. Straubinger from University of Leipzig, Germany, showed that even closely related Borrelia species might induce different clinical features. These bacterial spirochaetes are transmitted by ticks and cause either relapsing fever or Lyme borreliosis. In case of relapsing fever, certain Borrelia species colonize distant body sites by haematogenous dissemination. For Lyme borreliosis, Straubinger found a process of active migration of the pathogens through the host's tissue.
A similar situation was reported by Dr. Gad Baneth, Hebrew University, Israel, for the protozoan pathogens Babesia, which are tick-borne apicomplexan parasites that infect erythrocytes in a variety of domestic and wild animals as well as humans. Three subspecies of Babesia canis that are identical by light microscopy have been distinguished in dogs due to differences in the pathological and clinical signs, antigenic properties, genetic characterization and transmission by different vector ticks. Dr. Baneth stressed that accurate detection and species recognition are important for the selection of the correct therapy and predicting the course of disease.
Besides bacteria and protozoa, ARBO (from ARthropod-BOrne) viruses are other potent transmitted pathogens of both animals and humans. According to Dr. Uwe Truyen from University of Leipzig, Germany, the tick-borne Spring or Early Summer Meningoencephalitis is the only ARBO virus infection in dogs known so far. Nevertheless, the virus is not rare in endemic areas and seroprevalence rates of up to 16% have been described from dogs. Dr. Truyen therefore strongly recommends the regular use of ectoparasiticides in veterinary practice to block especially flea, tick and mosquito infections.
Leishmaniosis is a disease similarly found in humans and dogs caused by Leishmania infantum, which is endemic around the Mediterranean Sea and transmitted by several species of the phlebotomine sand-flies. According to Dr. Jean-Pierre Dedet from University of Montpellier, France, L. infantum is classically responsible for visceral leishmaniosis in children under five years of age. Since the 1980s, the pathogen is reported to be an opportunistic parasite in immunosuppressed patients, especially in HIV-positive humans. For Spain, Dr. Guadalupe Miró Corrales from University of Madrid reported a relatively low incidence for human leishmaniosis. "The real importance of the disease in our country is in the veterinary field with an annual incidence of 5% in dogs", she said. In contrast to human disease, canine leishmaniosis is a polysymptomatic disease characterized in a high percentage of cases by cutaneous lesions and general signs.
Dr. Luigi Venco from the Veterinary Hospital in Pavia, Italy, highlighted the clinical aspects of the mosquito-transmitted heartworm infections in dogs and cats by Dirofilaria immitis. He pointed out that the heartworm disease naming is misleading, as these filarial nematodes affect the heart as well as the lungs. Lesions and clotting of pulmonary arteries by the large worms are the reason for clinical signs in infected dogs such as chronic coughing and dyspnoea. They occur long before the right cardiac chamber may be involved.
Fundamental differences between Asia and Australia regarding the spread of CVBD pathogens were presented by Dr. Peter J. Irwin from Murdoch University, Australia. Because of its hot and humid climate, Asia presents an ideal environment for pathogens and their vectors. Wide prevalence and high morbidity and mortality make canine monocytic ehrlichiosis the most significant CVBD in Asia. In contrast Australia, although offering a wide range of climatic conditions, is currently considered to be free of canine monocytic ehrlichiosis, canine leishmaniosis, virulent babesiosis, Hepatozoon spp. and Anaplasma phagocytophilum. Dr. Irwin: "Australia's island status and strict quarantine regulations have afforded this protection."
In absence of effective preventative strategies against most of the vector-borne pathogens in most parts of the world, the logical consequence is ectoparasite control to lessen the risk of infection. Many of the diseases discussed pose a risk to humans as well as animals, most cannot be cured completely and others are even fatal. Therefore, only prevention of the arthropod-host interaction, starting from first interaction to skin attachment and blood-feeding, can help to reduce the risk of infection.
Foundation of the CVBD World Forum
As a logical outcome of this scientific meeting, the CVBD World Forum was founded. Dr. Dwight Bowman from Cornell University, USA: "I am happy to become a member of this group as I see an urgent need to increase awareness for the risk of CVBD infections all around the world and to achieve proper preventative regimens for ectoparasite control."