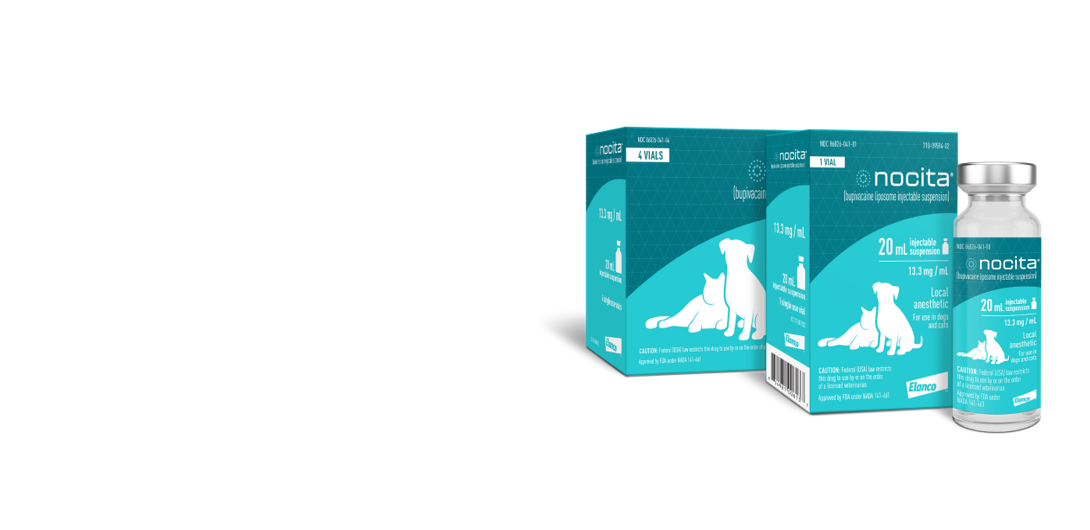 Clinical efficacy in dogs
The effectiveness of Nocita™ (bupivacaine liposome injectable suspension) in providing prolonged postsurgical analgesia was evaluated in a randomized, prospective, blinded, placebo-controlled, multicenter field study in client-owned dogs undergoing CCL stabilization surgery. ¹
Study design
182 client-owned dogs undergoing stifle surgery to stabilize torn CCL
Anesthesia and surgery methods:
• Premedication: hydromorphone and acepromazine
• Induction and maintenance of anesthesia: propofol, isoflurane and IV fluids.
• Surgical procedures: 46.3% extra-capsular, 43.9% TPLO, 9.8% TTA
5.3 mg/kg Nocita or placebo (0.4 mL/kg volume equivalent) in a single dose by moving needle infiltration injection technique during surgical closure
• Option to volume expand with normal sterile saline or LRS; used at up to 1:1 by volume
Test article distribution:
• ~25% around joint capsule incisions
• ~50% around fascial/subcutaneous tissue and hardware or suture insertions
• ~25% in subcuticular tissue
Pain Assessments:2
• Postoperative pain assessed at multiple time points through 72 hours following administration
• Success defined as no pain intervention
Conclusion
Nocita was proven to provide pain control for up to 72 hours following canine CCL surgery:2
• percent of treatment success for the Nocita- treated group was statistically significantly greater than the placebo-treated group over 0-24 hours.
• greater percent successes through 48 and 72 hours support effective use of Nocita for up to 72 hours of analgesia.
Safety in Dogs
Nocita demonstrated safety and was well tolerated in dogs following cranial cruciate ligament surgery.2
Field Study Design:
• 182 client-owned dogs undergoing knee surgery
• 5.3 mg/kg by infiltration injection during surgical closure
Toxicity Study:2
Nocita did not produce systemic toxicity and had a high margin of safety.
• Local granulomatous inflammation occurred at injection sites of dogs from Nocita groups, and some had grossly visible redness, thickening or inflammation at injection sites
• Results are consistent with local exposure to the liposome component of Nocita
• No effects were seen on body weights, food consumption, clinical signs, ECGs hematology, coagulation, clinical chemistries or urinalysis
• The study supports safe use of Nocita at label dose
Indications:
For single-dose infiltration into the surgical site to provide local postoperative analgesia for cranial cruciate ligament surgery in dogs. For use as a peripheral nerve block to provide regional postoperative analgesia following onychectomy in cats.
Important Safety Information:
Nocita is for use in dogs and cats only. Do not administer concurrently with bupivacaine HCl, lidocaine or other amide local anesthetics. The safe use of Nocita in dogs and cats with cardiac disease or with hepatic or renal impairment has not been evaluated. The safe use in dogs or cats younger than 5 months of age, that are pregnant, lactating, or intended for breeding has not been evaluated. The most common adverse reactions in dogs were discharge from incision, incisional inflammation and vomiting. The most common adverse reactions in cats were elevated body temperature and infection or chewing/licking at the surgical site. Click here for full prescribing information