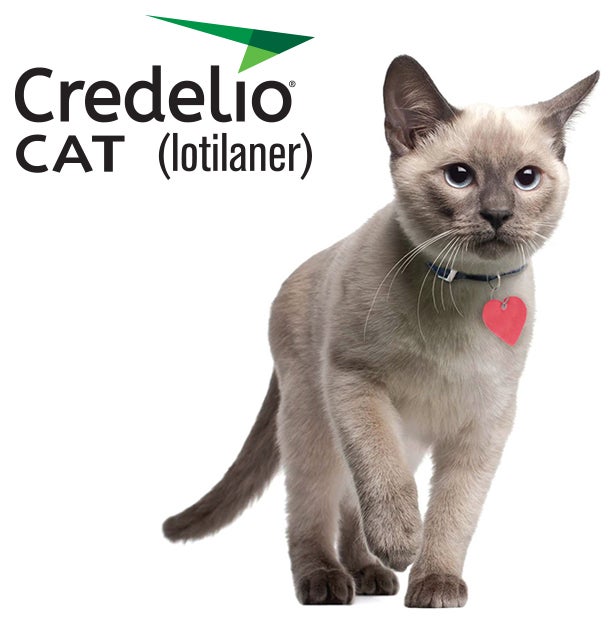 Credelio® CAT (lotilaner)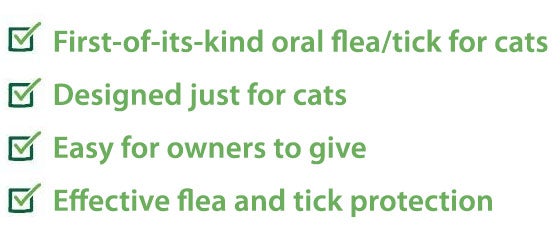 Credelio Cat is the first oral flea and tick product for cats in Canada. The small, chewable product maintains fast-acting, sustained flea efficacy throughout the month in cats 8 weeks and older weighing 0.9 kilograms or more.1 Credelio Cat also protects against black-legged ticks (Ixodes scapularis) throughout the month in cats 6 months and older and weighing 0.9 kilograms or more.1
RAPID, SUSTAINED FLEA KILL
Credelio Cat kills fleas before they can lay eggs, preventing further infestation after the start of treatment. It maintains fast-acting and sustained flea efficacy throughout the entire month — no drop-off.2,3
EFFECTIVE, SUSTAINED TICK KILL
I. scapularis, also known as the black-legged or deer tick, is one of the most common tick infesting cats. It is most often found on the head, neck and ears and can be a threat year-round.4
Credelio Cat kills 97-100% of I. scapularis ticks at 72 hours after administration or infestation throughout the month.5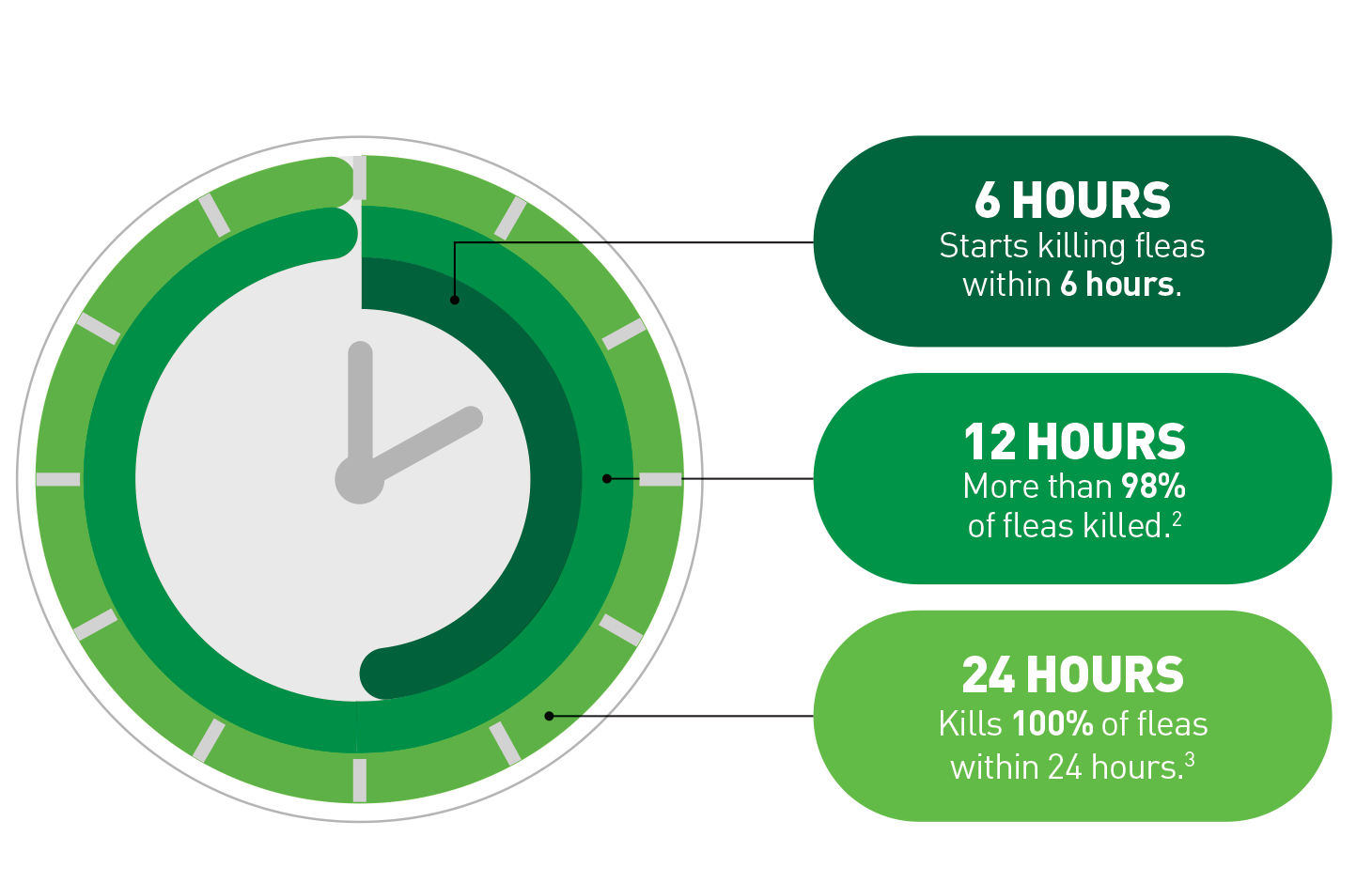 DESIGNED WITH CATS IN MIND
Credelio Cat chewable tablets are formulated with just the right amount of lotilaner, a powerful isoxazoline active ingredient that is extra-purified6 for maximum benefits.
Benefits of extra-purification6:
Better efficacy with the same dose of drug7
Allows for a potent, small chewable tablet that's easy for cats to take7
Less potential for side effects8
Credelio Cat development:
Highly emphasized product smell and flavour
Heavily considered cats' unique eating behaviours and physiology
Tested multiple flavour/smell attributes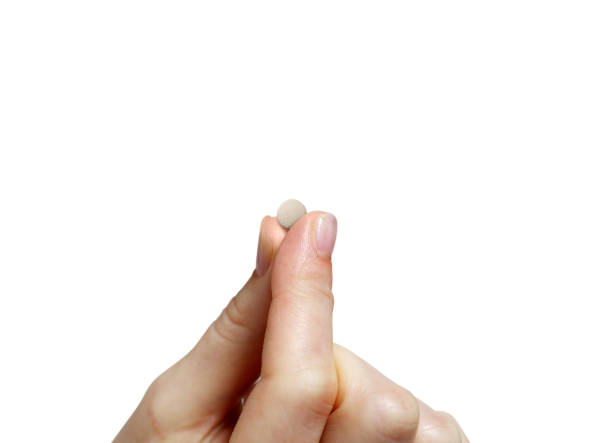 EASY FOR OWNERS TO GIVE
In a U.S. field study, 99.5% of cat owners (645/648 doses) successfully administered Credelio Cat to a diverse range of cats.9
| | |
| --- | --- |
| PALATABILITY SCORE9 | |
| Tablets accepted voluntarily | 46.9% |
| Tablets accepted placed in mouth | 52.6% |
| Total tablets successfully dosed | 99.5% |
| Tablets could not be administered by pet owner(Two cats successfully redosed by clinic study staff) | 0.5% |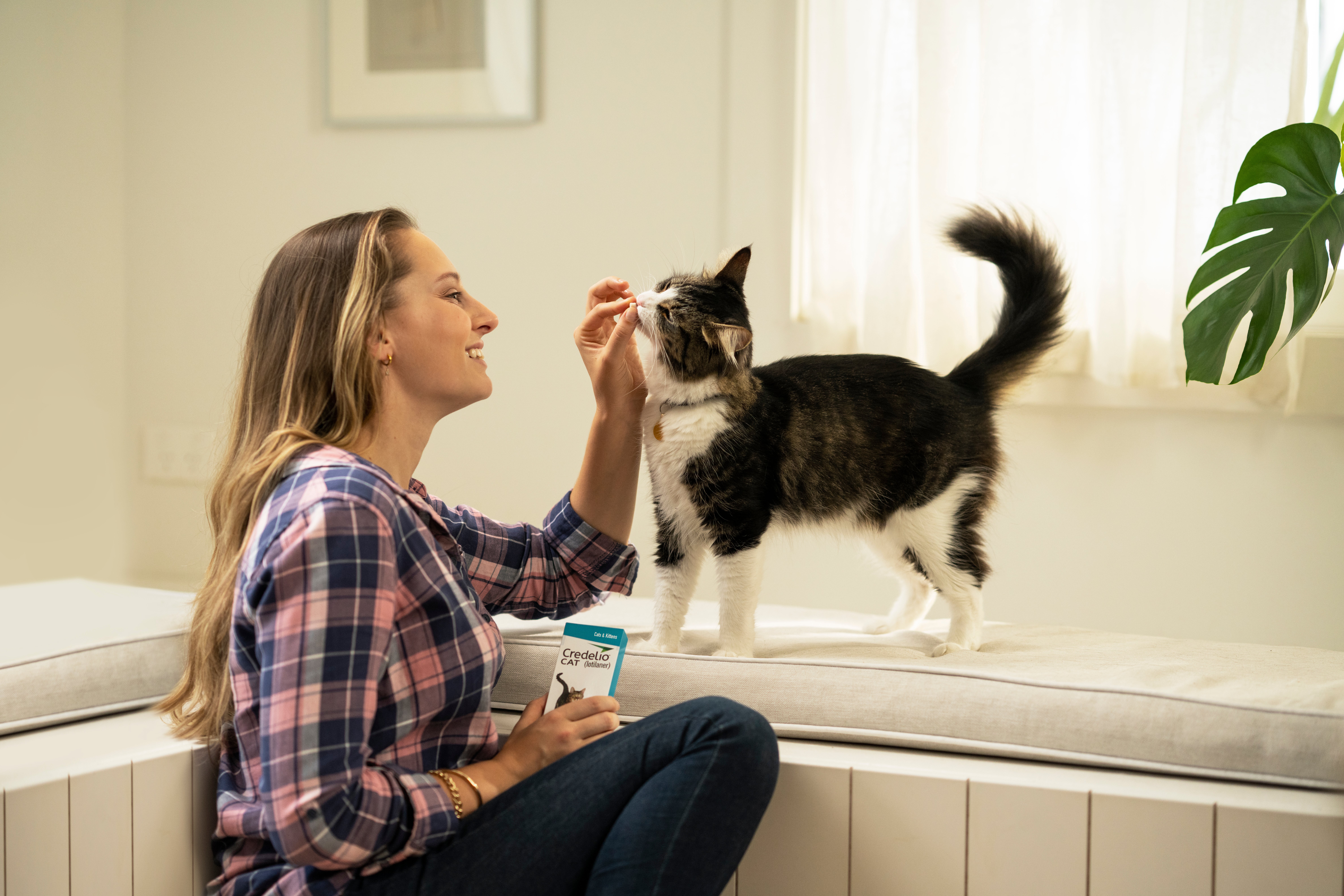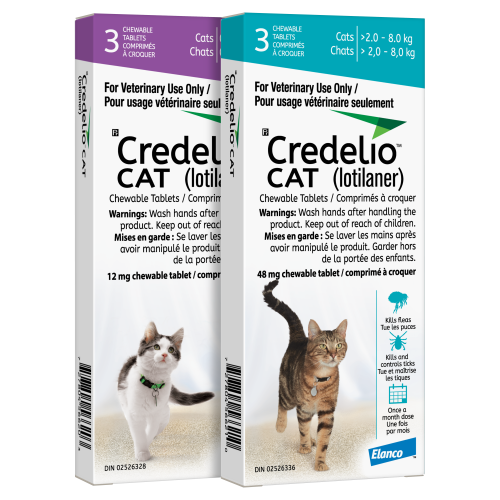 INDICATIONS
Credelio Cat is indicated for:
The treatment and prevention of flea infestations (Ctenocephalides felis) for one month in cats and kittens 8 weeks of age and older, weighing 0.9 kg or greater, and as part of a treatment strategy for the control of flea allergy dermatitis (FAD).
The treatment and control of Ixodes scapularis (black-legged or deer tick) infestations for one month in cats and kittens 6 months of age and older, weighing 0.9 kg or more.
IMPORTANT SAFETY INFORMATION
Lotilaner is a member of the isoxazoline class. This class has been associated with neurological adverse reactions including tremors, ataxia, and seizures. Seizures have been reported in cats receiving isoxazoline class drugs, even in cats without a history of seizures. Use with caution in cats with a history of seizures or neurological disorders. Safety and efficacy have been studied in cats aged 8 weeks and older with a body weight of 0.7 kg or more. Therefore, use of Credelio Cat in kittens younger than 8 weeks of age or less than 0.7 kg of body weight should be based on a benefit-risk assessment by the veterinarian. The safe use of Credelio Cat in breeding, pregnant or lactating cats has not been evaluated.
Credelio® Cat Canadian Product Label.
Cavalleri D, Murphy M, Seewald W, et al. Laboratory evaluations of the efficacy and speed of kill of lotilaner(Credelio) against Ctenocephalides felis on cats. Parasite Vector. 2018;11:408.
Paarlberg T, Karadzovska D, Helbig R. Efficacy of lotilaner (CredelioTM) against experimentally induced infestations of the adult cat flea Ctenocephalides felis, and flea eggs following oral administration to cats. Parasite Vector. 2021;14:139.
Little SE, Barrett AW, Nagamori Y, et al. Ticks from cats in the United States: Patterns of infestation and infection with pathogens. Vet Parasitol. 2018;257:15.
Credelio Cat. Freedom of Information Summary Supplement. NADA 141-528.
Rufener, L., et al. The novel isoxazoline ectoparasiticide lotilaner (Credelio™): a non-competitive antagonist specific to invertebrates γ-aminobutyric acid-gated chloride channels (GABACls). Parasites Vectors 2017; 10, 530
Toutain C, Seewald W, Jung M. The intravenous and oral pharmacokinetics of lotilaner in dogs. Parasite Vector. 2017;10:522.
Food and Drug Administration. Development of new stereoisomeric drugs. Available from: https://www.fda.gov/drugs/ guidancecomplianceregulatoryinformation/guidances/ ucm122883.htm. Accessed March 19, 2021.
Chappell K, Paarlberg T, Seewald W, et al. A randomized, controlled field study to assess the efficacy and safety of lotilaner flavored chewable tablets (Credelio® CAT) in eliminating fleas in client-owned cats in the USA. Parasite Vector. 2021;14:127.