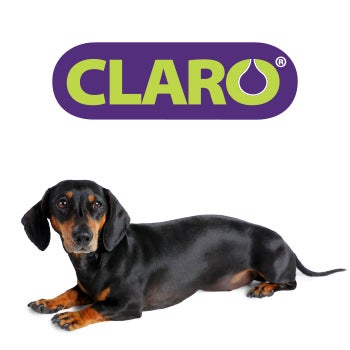 Claro®
Welcome to the Claro® website
WHY CLARO®?
Canine otitis externa is one of the most common conditions presented to veterinary clinics. Claro is a first-line treatment option that offers a solution for acute otitis externa cases in just ONE dose.
Claro offers:
CONVENIENCE
• A single, 1mL dose in each affected ear treats dogs of all sizes
• No wait time between ear cleaning and product administration
COMPLIANCE
• Up to 80% of owners give the incorrect dose when administering ear products to their dog.
• Ensure treatment compliance by removing at-home treatments with Claro
CONFIDENCE
• With a unique combination of three active ingredients, Claro® effectively treats the most common pathogens associated with 70-90% of acute otitis externa (OE) cases.
CLARO® – A UNIQUE COMBINATION
Claro® contains the unique combination of florfenicol, mometasone furoate, and terbinafine hydrochloride to provide effective anti-bacterial, anti-fungal and anti-inflammatory protection.
Anti-bacterial

Florfenicol

• An established first-line antibiotic for the
topical treatment of otitis externa2
• Florfenicol is classified as a Category III
Antimicrobial3, and not listed as critically
important antimicrobial in human
medicine by the World Health
Organisation (WHO)4.
• Provides broad-spectrum bacteriostatic
activity
• Effective against S. pseudintermedius, a
common bacterial pathogen associated
with otitis externa




Anti-fungal

Terbinafine hydrochloride

• Provides potent anti-fungal activity
• Selectively inhibits the early synthesis
of ergosterol, an essential component of
the membranes of yeasts and fungi




Anti-inflammatory

Mometasone furoate

• High-potency corticosteroid
• Anti-inflammatory and anti-pruritic
properties

PROVEN EFFICACY WITH JUST ONE DOSE
Results from a randomised, multi-centre and double-blinded clinical field trial found that Claro®demonstrated a significantly higher treatment success rate compared to the control group** for cases of otitis externa caused by Staphylococcus pseudintermedius and Malassezia pachydermatis.5
TREATMENT SUCCESS
Defined as substantial alleviation of otitis externa based on improvement in clinical severity score at day 30. (P = 0.0001)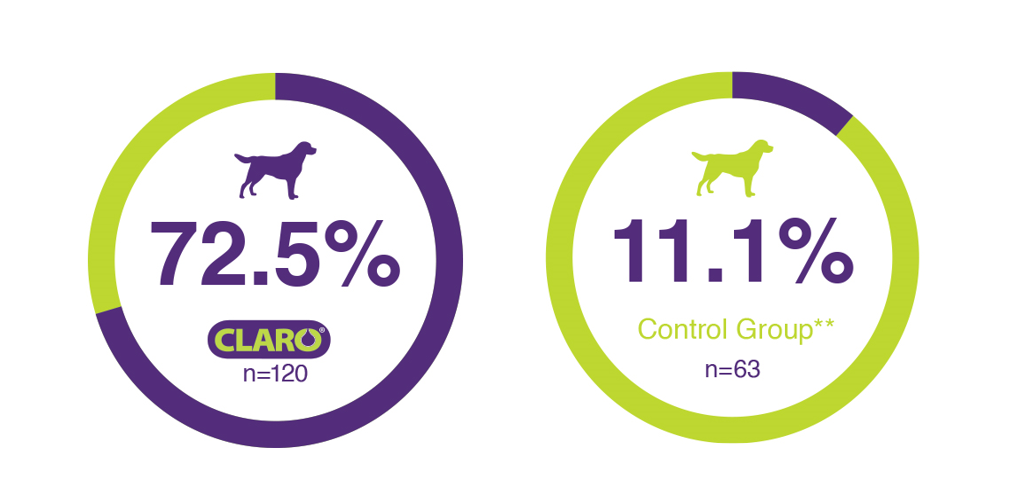 **Control = solution with active ingredients omitted
***Based on erythema, exudate, swelling and ulceration
Indication: Claro® is indicated for the
treatment of otitis externa in dogs
associated with susceptible strains of yeast
(Malassezia pachydermatis) and bacteria
(Staphylococcus pseudintermedius).1


Active Ingredients: florfenicol, mometasone
furoate,terbinafine hydrochloride.
Contact your Elanco Sales Representative for more information.
The label contains complete use information, including cautions and warnings. Always read, understand and follow the label and use directions.
To report suspected adverse drug events or for technical assistance, contact Elanco Canada Limited at 1-800-265-5475.
1. Canadian Claro product label
2. Sue Paterson, 2018. The use of antibiotics and antimycotics in otitis. UK Vet Companion Animal, (23), 11, 608-613
3. Health Canada. Categorization of Antimicrobial drugs based on importance in human medicine. 2009. [Cited 2021 May 31]. Avail-able from: https://www.canada.ca/en/health-canada/services/drugs-health-products/veterinary-drugs/antimicrobialresistance/cate-gorization-antimicrobial-drugs-based-importance-human-medicine.html
4. World Health Organization (WHO), Advisory Group on Integrated Surveillance of Antimicrobials (AGISAR). Critically Important Antimicrobials for Human Medicine. 3rd. Geneva, Switzerland: WHO, 2020.
5. Blake, J. et. al., 2017. Evaluation of a single-administration ototopical treatment for canine otitis externa: a randomised trial. Veteri-nary Record Open, 4(1), p.e000219.