Go beyond the itch with Atopica® (cyclosporine capsules) USP MODIFIED
Help dogs with atopic dermatitis get relief with the proven comfort of Atopica.
Atopica provides long-term, well-tolerated relief from atopic dermatitis1-4 with a broad mode of action that targets the source of inflammation.
Proven to relieve itch and reduce skin lesions in dogs5,6

Long-term relief with lasting results6,7

Flexible, tapered dosing lowers costs for dog owners over time
Proven relief
Atopica clinical trials included dogs treated for six weeks5 and for 16 weeks at full or reduced dose as determined by clinical need.6
Over the entire 16-week study:6
Pruritus score improved
Alopecia score improved
Skin lesion score improved
Well-tolerated treatment
Atopica is approved for long-term use.
Side effects such as vomiting and diarrhea are generally mild and transient, and don't always require stopping treatment.
Flexible treatment for cost-effective, long-lasting control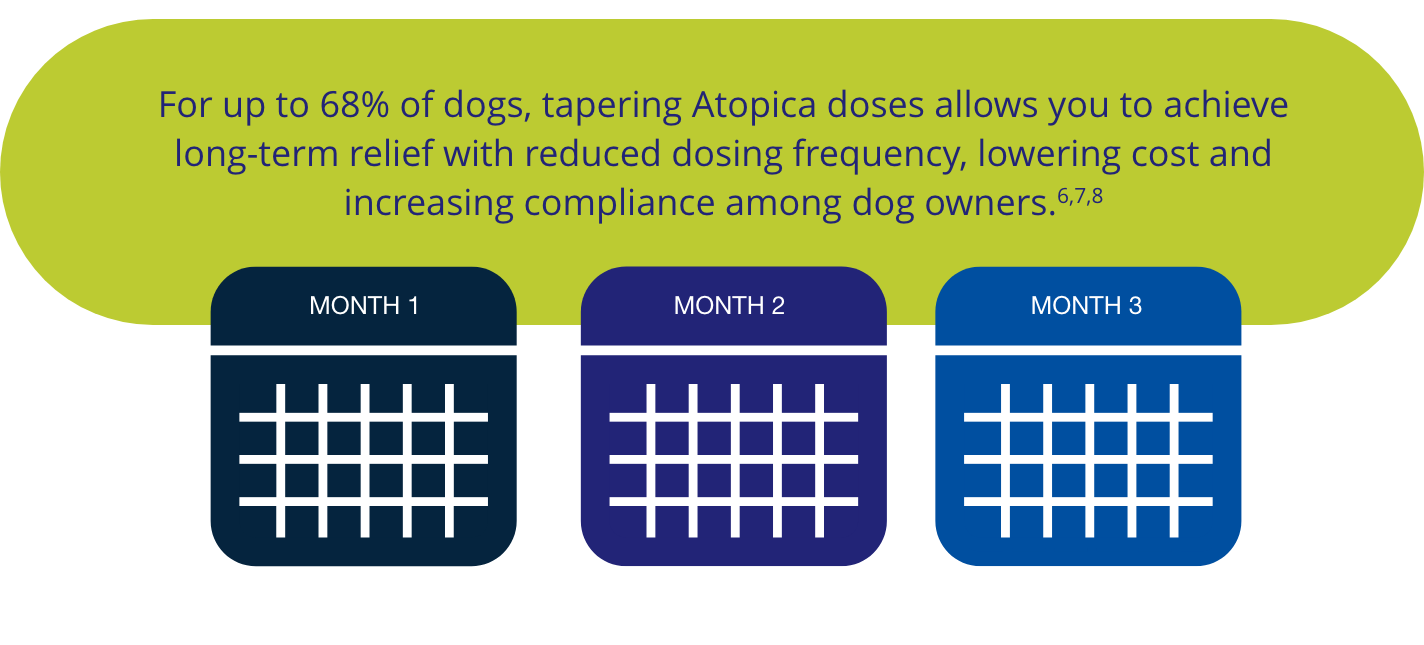 Treat atopic dermatitis beyond the itch with Atopica.
Indications:
ATOPICA is indicated for the control of atopic dermatitis in dogs weighing at least 4 pounds and at least 6 months of age.
Important Safety Information:
Do not use Atopica in dogs with a history of neoplasia, with a hypersensitivity to cyclosporine, or in reproducing dogs. Atopica is a systemic immunosuppressant that may increase susceptibility to infection and development of neoplasia. For use only in dogs. Capsules should not be broken or opened. Wear gloves during administration and wash hands after administration. Gastrointestinal problems and gingival hyperplasia may occur at the initial dose. Safety and effectiveness has not been established in dogs less than 6 months or 4 lbs. Use with caution in dogs with diabetes mellitus or renal insufficiency, and with drugs that affect the P-450 pathway. Killed vaccines are recommended. The most common adverse events are vomiting and diarrhea.
Please see product label for full prescribing information.