Break the itch-lick-scratch cycle without steroids with Atopica® for Cats (cyclosporine oral solution) USP MODIFIED
Help your patients with feline allergic dermatitis relax with the proven comfort of Atopica for Cats.
Typical lesion manifestations seen in cats with feline allergic dermatitis
Atopica for Cats is the first and only FDA-approved product for the control of feline allergic dermatitis.
Many pet owners prefer an alternative to steroids.1
Atopica for Cats features a unique mode of action that inhibits the production of inflammatory cytokines without steroids.
Proven efficacy against allergic dermatitis in cats

Easy-to-dose administration

Nonsteroidal

Highly rated by cat owners1
Proven Efficacy
Proven Efficacy Against Feline Allergic Dermatitis
78% of cats were comfortable with satisfactory levels of grooming.
Cats responded to Atopica as early as four to six weeks.
75% of placebo-treated cats were still considered to be uncomfortable.
65.1% reduction in total lesion score compared to 9.2% for placebo group.
Easy-to-dose administration in cats
Atopica for Cats can be administered in food or directly into the mouth.
In clinical trials, 98% of cats were able to be dosed.2
Atopica for Cats won the Easy to Give Award by International Cat Care, 2012.
Well-tolerated treatment
Atopica for Cats is approved for long-term use.
GI-related side effects are the most common and are usually mild, transient and do not require discontinuation.
Long-term relief with tapered dosing3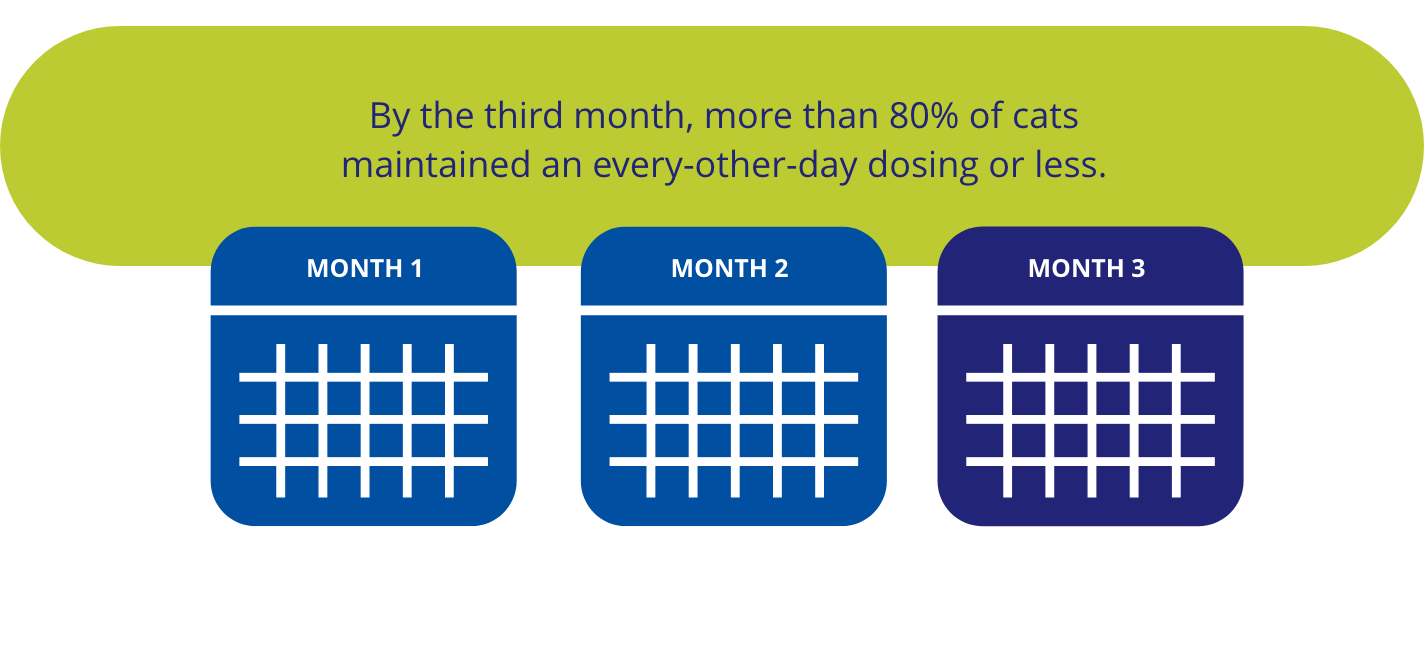 Break the cycle. Give them relief from feline allergic dermatitis with Atopica for Cats.
Indications:
ATOPICA® for Cats (cyclosporine oral solution) USP MODIFIED is indicated for the control of feline allergic dermatitis as manifested by excoriations (including facial and neck), miliary dermatitis, eosinophilic plaques, and self-induced alopecia in cats at least 6 months of age and at least 3 lbs in body weight.
Important Safety Information:
Do not use in cats with a history or suspicion of malignant disorders, feline leukemia virus (FeLV) or feline immunodeficiency virus (FIV) infection, or hypersensitivity to cyclosporine. Atopica is a systemic immunosuppressant that may increase susceptibility to infection, development of neoplasia, and decrease response to vaccination. Persistent, progressive weight loss may result in hepatic lipidosis; monitoring of body weight is recommended. For use only in cats. Wash hands after administration. People with known hypersensitivity should avoid contact with Atopica. Do not use with other immunosuppressive agents. It is important for cats to avoid exposure to Toxoplasma gondii during treatment. Use with caution in cats with diabetes mellitus or renal insufficiency, and with drugs that affect the P-450 enzyme system. The most common adverse events were vomiting, weight loss, diarrhea or loss of appetite. Please speak with your veterinarian for advice.
Please see product label for full prescribing information.