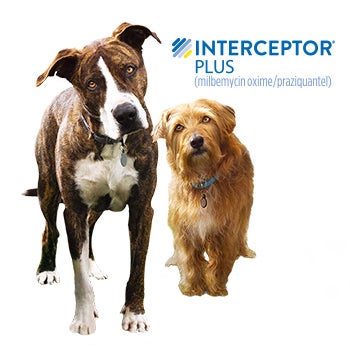 Interceptor® PLUS
(milbemycin oxime/praziquantel)
Canine Parasites: A Greater Threat To Your Patients Than You Might Think
4 out of 5 dog parks in the US tested positive for intestinal parasites1
1 in 5 dogs in a US study tested positive for worms1
50% of dog parks in the US tested positive for hookworm, whipworm or roundworm1
Studies show that Echinococcus multilocularis tapeworms have been found in BC, Alberta, Saskatchewan, Manitoba and Ontario11-16
What's Driving The Risk?
Diagnostic Challenges
96% of D. caninum infections were missed using passive flotation2




62% of T. vulpis infections were missed using passive flotation3




Less than 24% of shelters/rescue organizations in the US require fecal testing/deworming pre-transfer4




Heartworm surveys in Canada have consistently shown that 85%-90% of dogs diagnosed with heartworm were not on heartworm prevention in the year prior to testing10




2019 study shows that zoonotic tapeworms (Echinococcus multilocularis) are more prevalent in Ontario than originally thought14



More Dogs Are On The Move
Shelter Shortages Require Relocation
More than 114,000 dogs transported into Colorado from 2013-2017 by rescue & shelter organizations5
Natural Disasters Force Dog Transit
ASPCA transported > 40,000 dogs6
Dogs Are Socializing More
45% of US pet owners desire a dog park or trail when selecting a place to live7
Confront The Threat With Broad-Spectrum Protection: Interceptor® Plus
FOLLOW CANADIAN PARASITOLOGY EXPERT PANEL (CPEP), COMPANION ANIMAL PARASITE COUNCIL (CAPC), AMERICAN HEARTWORM SOCIETY (AHS) GUIDELINES8-10
Prevention recommendations to address growing canine parasite threats
Broad-Spectrum parasite protection
Canine parasites with possible zoonotic potential
According to CAPC research, client awareness of intestinal parasites is low. CAPC guidelines recommend administering year-round broad-spectrum parasite control with efficacy against heartworm, intestinal parasites, fleas, and ticks.8
Interceptor® Plus Protects Against Five Types Of Common Parasitic Worms
Ready To Take On All Five?
Interceptor® Plus (milbemycin oxime/praziquantel) protects against 5 types of common parasitic worms in dogs, including heartworm disease. It's a once-monthly, tasty chew flavoured with real chicken that is approved for dogs and puppies 6 weeks or older and 0.9 kg or greater.
How Interceptor® Plus Protects
Treats and controls Tapeworms infections (T. pisiformis, E. multilocularis, E. granulosus and D. caninum)

Treats and controls Whipworms (T. vulpis)

Treats and controls Hookworms (A. caninum)

Prevents Heartworm disease (D. immitis)

Treats and controls Roundworms (T. canis, T. leonina)
Indications
Interceptor Plus is indicated for the prevention of heartworm disease caused by Dirofilaria immitis; and for the treatment and control of adult roundworms (Toxocara canis, Toxascaris leonina), adult hookworm (Ancylostoma caninum), adult whipworm(Trichuris vulpis), and adult tapeworms (Taenia pisiformis, Echinococcus multilocularis, Echinococcus granulosus, and Dipylidium caninum) infections in dogs and puppies.
Important Safety Information (ISI)
The label contains complete use information, including cautions and warnings. Always read, understand and follow the label, and use directions.