Comprehensive Salmonella Prevention
Elanco supports food safety with a comprehensive suite of products and programs. Addressing Salmonella in laying operations requires an integrated, comprehensive approach to food safety. Salmonella 360° from Elanco treats every stage of bird development – from egg to plate – as the last line of defense against Salmonella to prevent infection and improve food safety.
Salmonella 360° prevents Salmonella in three ways: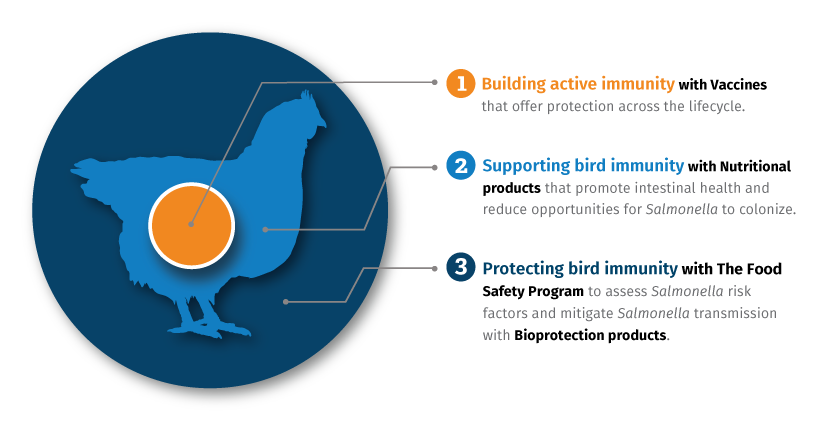 Why Salmonella?
Regulations are changing.

Regulatory agencies are looking at Salmonella reduction as a way to improve overall food chain safety. In some markets, regulations are fully established, while in others, codes of practice are being introduced. In this environment, producers must meet current standards, demonstrate a commitment to best practices and prepare for new regulations. The U.S., U.K., Canada and the E.U. have all adopted food safety laws, with requirements becoming even more rigorous over the past few decades in response to foodborne illness outbreaks. Codes of practice are emerging in growing markets such as Latin America, Asia Pacific nations and the Middle East.

Outbreaks are costly and damaging.

Even if your own operation has never faced a Salmonella outbreak or recall, you're probably all too familiar with what these events can do to a poultry brand. Profit losses can be significant, not to mention the long-term damage to a company's reputation. In the E.U., for example, costs related to Salmonella outbreaks have been estimated to average over €1.000 per human case1 and in the U.S., outbreaks have an estimated annual cost of €2.8bn.2

Salmonella is a prevalent threat to the food chain.

Salmonella continues to be one of the most common sources of foodborne illness. Every year, Salmonella is estimated to cause 94 million human infections and 155,000 deaths globally.3 One in two foodborne disease outbreaks in Europe are attributed to Salmonella.4

Consumers want to know more about their food.

Around the world, consumers are increasingly interested in labeling that provides a clear story about their food contents, safety and environmental impact. More and more consumers are even willing to pay a premium for foods that offer extra assurances.5
Oxford Analytica. Oxford Analytica The Costs of Animal Disease 2012 https://www.bft-online.de/fileadmin/bft/publikationen/IFAH_Oxford-Analytica_The-Costs-of-Animal-Disease_October2012.pdf.
Scharff RL. (2020) Food Attribution and Economic Cost Estimates for Meat- and Poultry-Related Illnesses. Journal of Food Protection;83[6]:959-67
Hendriksen RS, Vieira AR, et al. (2011) Global Monitoring of Salmonella Serovar Distribution from the World Health Organization Global Foodborne Infections Network Country Data Bank: Results of
Quality Assured Laboratories from 2001 to 2007. Foodborne Pathogens and Disease; 8:887-900.
EFSA Journal 2015. The European Union summary report on trends and sources of zoonoses, zoonotic agents and food-borne outbreaks in 2013. EFSA Journal;13(1):3991.
Cassity J. (2018) State of Clean Label Around the World: Global Similarities, Geographic and Generational Differences. Kerry. https://www.kerry.com/insights/kerrydigest/2018/state-of-clean-labelaround-the-world. 2018