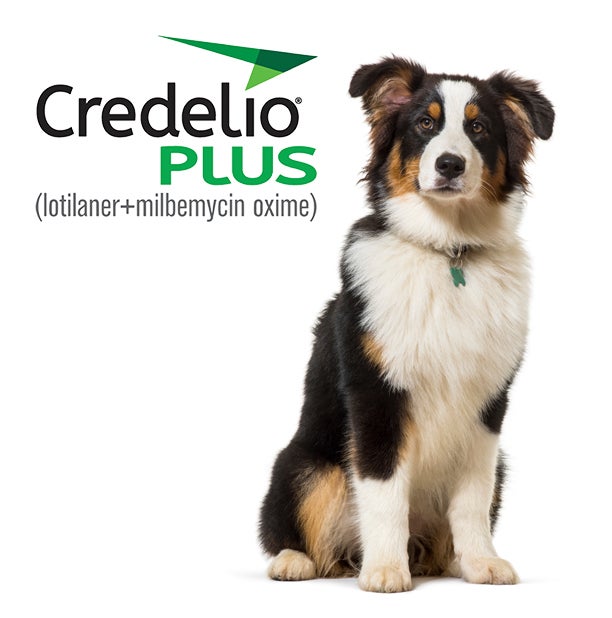 Credelio® PLUS
(lotilaner + milbemycine oxime)

Credelio® PLUS (lotilaner + milbemycin oxime)
Introducing Credelio® PLUS. The first parasiticide to combine two trusted ingredients, extra-purified lotilaner(3) and long trusted milbemycin oxime.
Indication: Credelio® PLUS is for use in dogs and puppies and is indicated for the treatment and control of adult tick infestations; the treatment and prevention of flea infestations, and as part of a treatment strategy for the control of flea allergy dermatitis (FAD); the treatment and control of roundworms: adult and larval roundworms; and the prevention of heartworm disease1.

Spectrum: Tick ([Amblyomma americanum (Lone Star tick), Dermacentor variabilis (American dog tick), Ixodes scapularis (black-legged or deer tick) and Rhipicephalus sanguineus (brown dog tick)); flea (Ctenocephalides felis); roundworms (adult and larval L4 and L5 Toxocara canis); and heartworm disease (Dirofilaria immitis).

Species: Safe for dogs and puppies from 8 weeks of age or minimum of 1.4 kg¹

Formulation: Monthly chewable tablet

Active Ingredients: Lotilaner PLUS milbemycin oxime
Why Credelio® PLUS?
FAST
Starts killing fleas and ticks in hours – lasts a full month
CONVENIENT
Small, tasty chewable tablet readily, accepted by dogs and puppies as young as 8 weeks or weighing greater than 1.4 kg1
COMPREHENSIVE
Kills ticks and fleas, PLUS adult and juvenile roundworm, PLUS prevents heartworm disease1
How does it work?
Credelio® PLUS offers monthly protection against a broad spectrum of parasites with just a single chewable tablet, combining two active ingredients to deliver tough but gentle protection for dogs and puppies.
The first active ingredient, lotilaner, is extra-purified 3 and absorbed into a dog's blood stream rapidly to provide quick relief from existing ticks and fleas, while also providing immediate and persistent killing activity for one month for ticks and fleas. The second active ingredient, milbemycin oxime, delivers protection against adult and juvenile roundworm, while also preventing heartworm disease.
How to administer Credelio® PLUS
Administering Credelio® PLUS 1
For full efficacy in killing ticks and fleas, preventing heartworm disease, and the treatment of roundworm, instruct pet owners to always give their dog Credelio® PLUS with food or within 30 minutes of a meal. The presence of food helps ensure that peak blood levels and exposures are achieved, which is necessary for initial and ongoing efficacy.
Credelio® PLUS should be administered once a month, and continued based on parasite risk, to dogs and puppies 8 weeks of age or older or 1.4 kg or higher in weight in order to provide year-round protection.
Credelio® PLUS Dosing Table
Dog weight
Lotilaner per tablet /
Milbemycin oxime per tablet
1.4 kg – 2.8 kg
56.25 mg / 2.11 mg
>2.8 kg – 5.5 kg
112.5 mg / 4.22 mg
>5.5 kg – 11.0 kg
225 mg / 8.44 mg
>11.0 kg – 22.0 kg
450 mg / 16.88 mg
>22.0 kg – 45.0 kg
900 mg / 33.75 mg
>45.0 kg
Administer the appropriate combination of tablets
The label contains complete use information, including cautions and warnings. Always read, understand and follow the label and use directions.
Credelio® PLUS Scientific Information
Get more technical information about how Credelio® PLUS works, its efficacy against ecto- and endoparasites, its safety information and more.
Other Products in the Credelio® Family
The Credelio® family of products can help meet the needs of your clients and their dogs with two canine products that provide a wide range of parasite coverage. With the ease, convenience and a range of options for protection with each Credelio® offering, you can keep dogs and their owners close. Credelio® close.
Credelio® for Dogs
As the first product in the Credelio® family, Credelio® has delivered consistent and effective tick and flea protection to Canadian dogs since 2019. Through its active ingredient, lotilaner, Credelio® is designed to provide tough tick and flea protection, while being gentle on dogs and puppies.
Credelio® for Cats
New Credelio® Cat is the first oral flea and tick product for cats. It's designed just for cats, is easy for owners to give, and provides effective flea and tick prevention.
Credelio® PLUS FAQs
If you still have questions about Credelio® PLUS, please refer to the answers below to learn more.
1. Credelio® Plus Canadian Product Label.
2. Toutain CE, Seewald W and Jung M. The intravenous and oral pharmacokinetics of lotilaner in dogs. Parasites & Vectors. 2017; 10:522
3. Rufener L, Danelli V, Bertrand D., et al. The novel isoxazoline ectoparasiticide lotilaner (Credelio™): a non-competitive antagonist specific to invertebrates γ-aminobutyric acid-gated chloride channels (GABACls). Parasites & Vectors 2017; 10:530
4. Cavalleri D, Murphy M, Seewald W, Drake J, and Nanchen S. Assessment of the speed of flea kill of lotilaner (Credelio™) throughout the month following oral administration to dogs. Parasites & Vectors 2017; 10:529
5. European Medicines Agency. CVMP Assessment for Credelio™ Plus 2021.